Save the date! Join us for our 39th Vintage Festival at Billingsgate (officially the BEST consumer drinks event of 2016) for our most feature-packed event ever – Friday 27th to Saturday 28th April 2018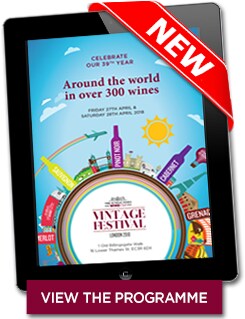 Take the chance to taste your way around the globe in 380 wines, and enjoy more artisan food and special features than ever! Not to mention the opportunity to discuss your favourite wines with dozens of the geniuses behind them!
Your hosts, as always, will be bestselling wine author Hugh Johnson OBE and Tony Laithwaite. The ticket price includes a free tasting glass, unlimited samples, a detailed programme (sent to you in advance) plus exclusive festival offers including free delivery, great savings and free bottles.
P.S. Make this year even more special with an upgrade to the exclusive Fine Wine Room. For an additional £20, you'll have the chance to sample fine and exquisite wines from some of the world's most legendary estates carefully selected by The Fine Wine Service team.