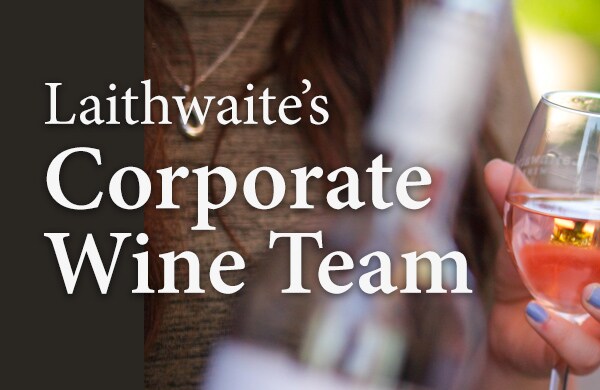 Most adults in the UK enjoy a glass of wine. So you'll make a client, staff member or customer very happy when you send them the gift of wine. And they'll think very positively of you and your business when they get round to opening that special bottle.
You can rely on the corporate team at Laithwaite's to provide those special wines – along with outstanding service. We have worked with organisations big and small for more than 20 years, meeting a wide range of requirements. Whether you have a specific marketing brief or want us to come up with some great ideas, we can provide a service that's just right for you.
Why Laithwaite's?
All you need to know ... what makes us different

Personal service
Tailored to individual wine tastes and requirements

Access to the best wines
Exclusive, award winning and fabulous tasting wines (all blind tasted)

100% money-back guarantee
We put so much effort into our sourcing that we deliver with complete confidence
Wine trade qualifications
Over 70% of our staff hold WSET qualifications and we have in-house certified trainers

Event tickets
Tasting, trips and competitions. Over 10,000 customers attend

Discounted rates
Tailored to individual wine tastes and requirements
Our Customers
What our customers say about us
Avios Group Limited (AGL) and Laithwaite's partnership has proven to be highly successful.In operation for almost 15 years, the partnership has generated considerable added value for members spending the Avios currency and has proven to be a valuable marketing tool in
driving customer loyalty, increased engagement and retention.
Sarah Willis AGL Partner Manager – Leisure
Laithwaite's doesn't do 'hard sell' .We have been with Laithwaite's for several years now and would have no reservation in recommending this company to my friends and neighbours. In fact I have done so many times.
Dr Kenneth Salmon - Laithwaite's customer
Contact Us
If you would like more information about any of our Corporate Schemes or would like to order with us, please contact us on the details below and we'll get back to you to discuss your requirements.

Telephone:
03330 142 762